"Committed to partner's expectation by well-trained engineers"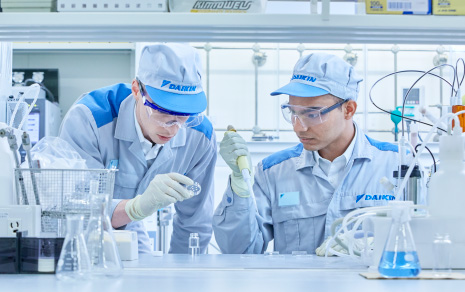 Over 500 technical experts in fluorochemistry contribute to develop and expand the business of our partners worldwide.
Our core technologies are material design, compounding, processing and evaluation and analysis. Out of our core technologies, material property and surface modification control are our main strengths.
OUR Technology and Innovation Center (TIC)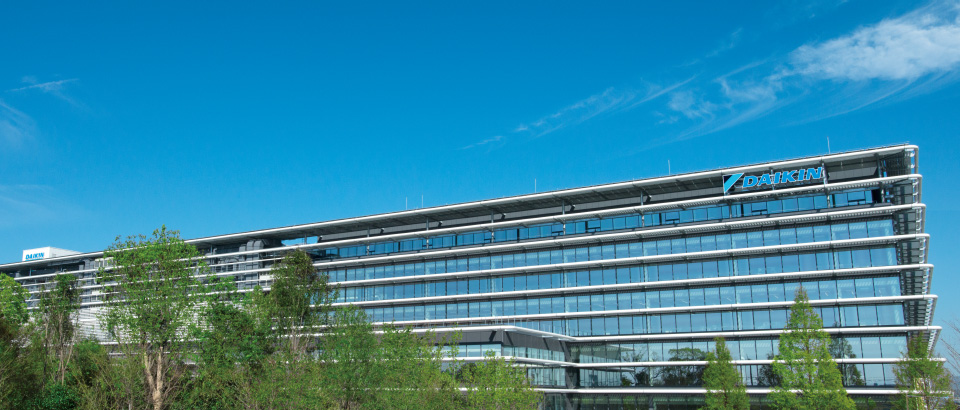 Technology and Innovation Center (TIC) is established as the core base for technology development of the Daikin Group. TIC aims to create new value based on the world's best technologies and highly differentiated products. For this reason, people of diverse backgrounds gather across national borders from inside and outside the company to consolidate their strengths and passion in making TIC a venue for the challenge of realizing collaborative innovation.
We will work to broaden our business domains beyond our strongholds of air-conditioning equipment and fluorochemicals, towards residential living spaces, communities, cities, and infrastructure. About 700 engineers have been assigned to the TIC. Here we are building a workplace culture where highly ambitious employees pursue dreams and exciting challenges in demonstrating their infinite potential to shape the future.
Company Name
Activities
Address
Daikin Industries, Ltd.
[Yodogawa Plant]
Production and R&D of fluorochemicals
1-1, Nishi-Hitotsuya, Settsu, Osaka 566-8585, Japan
Daikin Industries, Ltd.
[Technology and Innovation Center]
R&D of fluorochemicals
1-1, Nishi-Hitotsuya, Settsu, Osaka 566-8585, Japan
Company Name
Activities
Address
Daikin Fluorochemicals(China) Co.,Ltd.
[Technology and Research Center China]
R&D of fluorochemicals

No.8 Jinyu Road(West) Advanced Materials Industrial Park, Changshu, Jiangsu 215522, China

Daikin Fluorochemicals(China) Co.,Ltd.
[Shenzhen Office]
Marketing for IT, battery and automotive industry with TS laboratory
05-07,24F,Excellence Houhai Financial Center, Haide Third Road 126, Nanshan District, Shenzhen, China

+86-755-8657-5970

Daikin Fluoro Coatings (Shanghai) Co.,Ltd.
Sales, production and R&D of fluoropolymer coatings
No.388, Chun Guang Road Xinzhuang Industry Zone, Shanghai 201108, China

+86-21-5442-1840

Daikin Fluorochemicals (China) Co., Ltd.
Shanghai Minhang Branch

R&D and TS of fluorochemicals

2F, Building No.3, 1288 Zhongchun Road,
Minhang District, Shanghai, China
| Company Name | Activities | Address |
| --- | --- | --- |
| DKC R&D Center | R&D and TS of fluorochemicals | Industry University center-306, 119, Dandae-ro, Dongnam-gu, Cheonan-si, Chungcheongnam-do, 31116, Republic of Korea |
Company Name
Activities
Address
Daikin America, Inc. [Decatur Plant]
Production of fluorochemicals
905 State Docks Road, Decatur, AL 35601, U.S.A.
Daikin America, Inc. [San Jose Office]
Marketing for IT, battery and automotive industry

with TS laboratory

2184 Bering Dr, San Jose, CA 95131, U.S.A.
Cri-Tech, Inc.
Custom compounding of high performance elastomers, thermoplastics and specialty products
85 Winter Street Hanover, MA 02339, U.S.A.

+1-800-826-5699
Company Name
Activities
Address
Daikin Chemical Europe Innovation Center Dortmund

Marketing for IT, battery, and environmental and automobile industry,

and R&D of fluorochemicals

Walter-Bruch-Straße 5, 44263 Dortmund, Germany
Company Name
Activities
Address
Daikin Compounding Italy S.p.A
Sales, production and R&D of PTFE compounds and micropowders
Via Alcide de Gasperi No. 4, 25060 Collebeato BS, Italy

+39-030-2510211