DAI-EL fluoroelastomer products provide excellent high temperature and aggressive fluids resistance for sealing and fluid transport applications in automotive, oil and gas, chemical processing, small engine, and other harsh sealing environments.
Feartures of DAI-EL fluoroelastomer
Compared with other elastomers, DAI-EL fluoroelastomer products provide excellent high temperature and aggressive fluids resistance.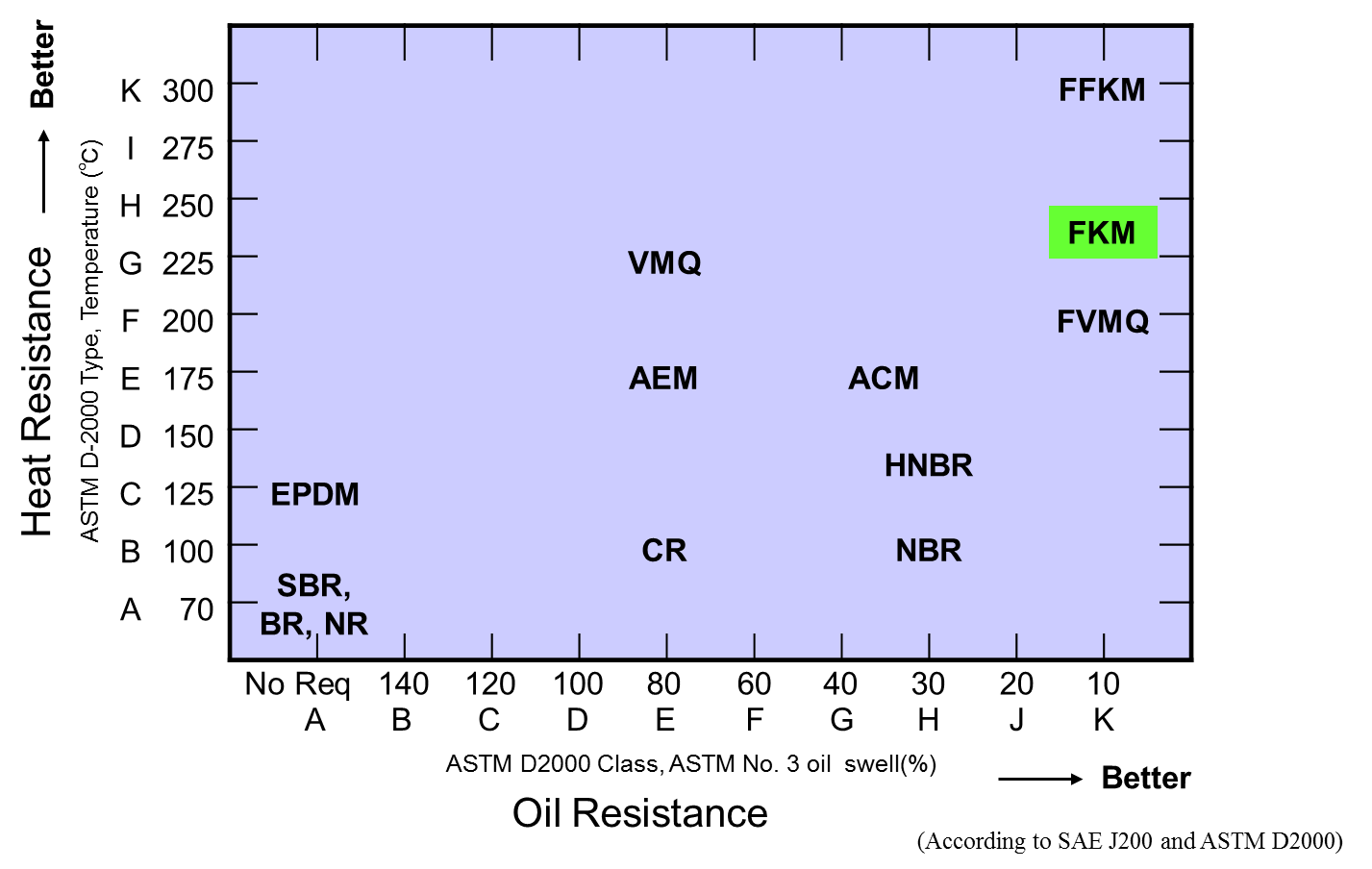 DAI-EL fluoroelastomer structure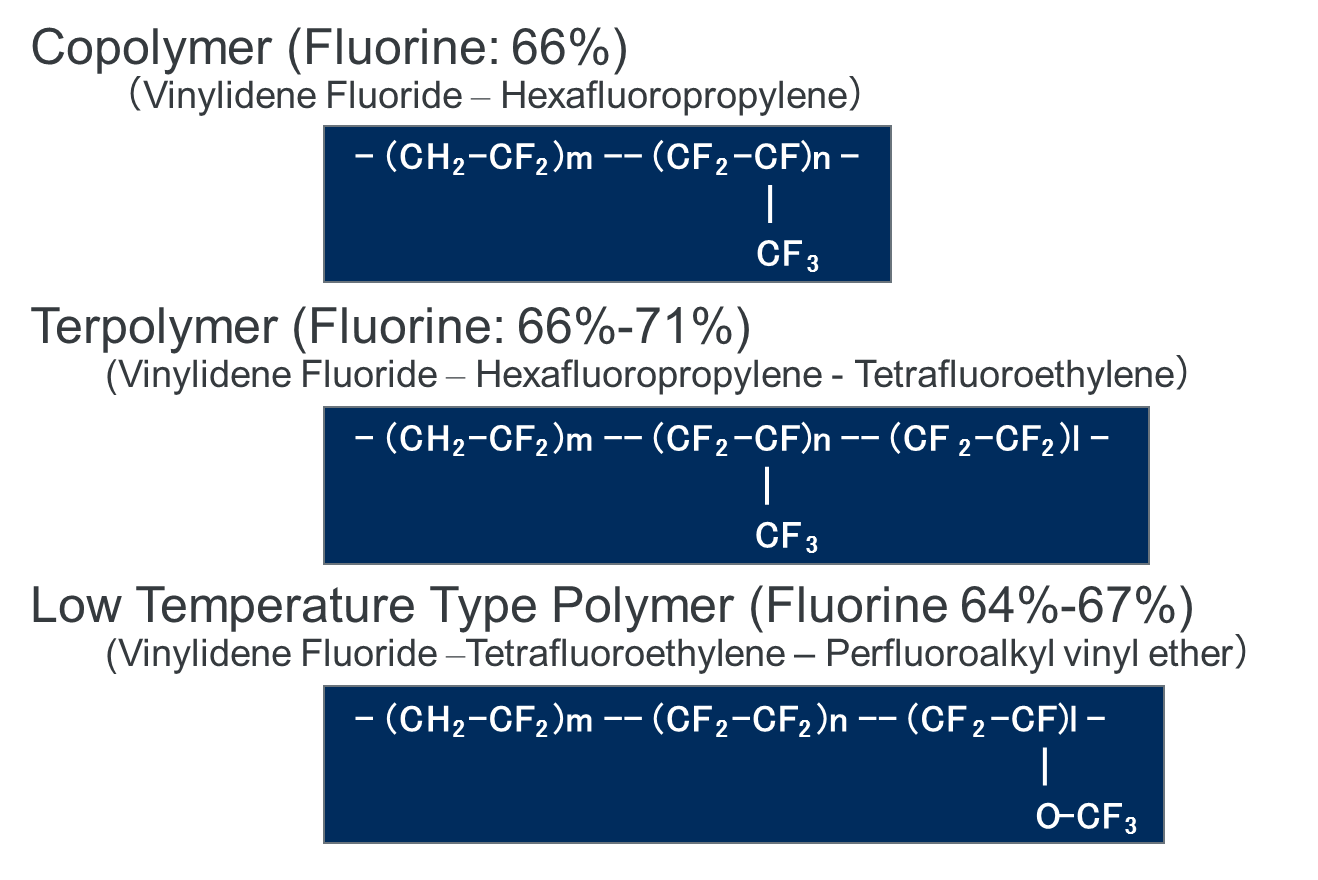 Effect of Fluorine Content
The fluorine content of a DAI-EL grade affects many things, especially low temperature properties and fluid resistance. In general, the lower the service temperature and volume swell of a compound, the better. However, as the chart below depicts, when selecting a fluoroelastomer there is generally a tradeoff between the two properties. For low temperature operating conditions, consider selecting a DAI-EL low temperature or copolymer grade. For sealing against aggressive fluids or other media, consider a 71% fluorine terpolymer or even a perfluoroelastomer.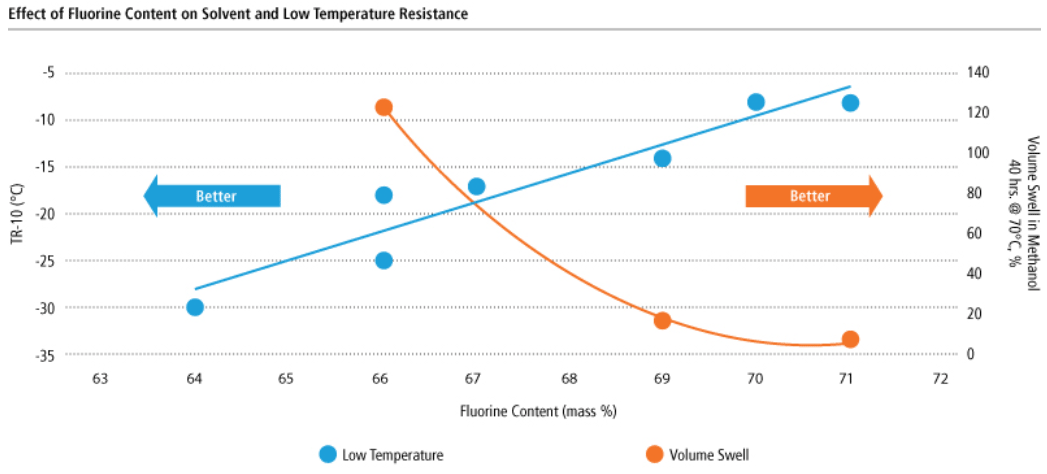 DAIKIN's DAI-EL fluoroelastomer products are used in a wide variety of industries and applications. In general, fluoroelastomers are selected due to their superior heat and chemical resistance when compared with other types of rubber. While each market requires different balances of those strengths, DAI-EL can offer grades that exceed most any requirementc
- Automotive: OEMs continue to increase fuel efficiency, reduce emissions, eliminate fluid leaks and improve the efficiency of their systems.
- Chemical plants: Aggressive chemicals, steam, acids, and bases require sealing materials with above average fluid resistance and long-term operability
- Oil & Gas: Drilling processes and other downhole fluids contain additives likely to degrade standard rubber.
- Medical & Food: O-rings, gaskets, shaft seals and flexible connectors for food processing equipment where heat or aggressive chemicals impact rubbers performance
- Consumer and wearable: Soft, flexible, non-reactive materials which don't degrade in contact with oils and perspiration are required
- Aerospace: high operating temperatures and high altitudes require superior heat resistance and low-temperature performance
DAI-EL Fluoroelastomers for harsh temperatures and fuel contact environments
To meet all these requirements, DAIKIN has developed DAI-EL, a wide range of fluoroelastomer solutions providing superior temperature resistance. It also combines the most effective stability to all sorts of chemicals and fluids such as oil, diesel, ethanol mix or body fluid. With low permeation rate, DAI-EL fluoroelastomer allows meeting stringent automotive regulations about gas emission by reducing leakage significantly.
DAI-EL grades can also provide optimal flow-ability and compression set.
DAI-EL fluoroelastomers also offer to consumer goods designers, new colorability options and innovative touch experience, while ensuring resistance to everyday life aggression.
This comprehensive FKM portfolio covers the full range of copolymers and terpolymers for bisphenol and peroxide curing as well as specialty elastomers and ready to use compound

- Bisphenol curable copolymers and terpolymers
- Peroxide-curable co- and terpolymers
- Low-temperature type polymers (LT) – Peroxide curable
- Base resistant elastomer (BRE) – Peroxide curable
- Specialty elastomers - Liquid elastomer, Thermoplastic fluoroelastomer
- Cri-Tech Custom Compounding
- Color Compounding

DAI-El complex polymer design allows stable extrusion and molding processes for every type of technical rubber parts and fitting in a wide range of processing constraints, reducing the risk of failures and increasing productivity.
Since no development challenge is similar to another, Daikin puts at specifiers and producers' disposal its experimented team of technical engineers to select develop and produce the most performing parts.
GRADES
Features
Typical Applications
Type
Curing System
Copolymer
Bisphenol Curable
Good compression set resistance
Good sealing
Oil seal
Crank shaft seal
Valve system seal
Bearing seal
Fuel hose
Turbo charger hose
O-ring
Peroxide Curable
MORE
Good mechanical properties
Good chemical resistance
Good acid resistance
Good steam resistance
Anti-flex fatigue
Terpolymer
Bisphenol Curable
MORE
Strong polar solvent resistance
Good compression set resistance
Good sealing
Peroxide Curable
MORE
Strong polar solvent resistance
Good chemical resistance
Good acid resistance
Good steam resistance
Diamine Curable
Strong polar solvent resistance
Good mechanical properties
Low Temperature
type polymer
Peroxide Curable
Excellent low temperature sealing properties
Excellent mechanical properties
Good acid resistance
Anti-flex fatigue
Injector O-ring
Diaphragm

Base Resistant Elastomer

Peroxide Curable
Excellent mechanical properties
Excellent base resistance
Excellent coolant resistance
Excellent engine / transmission oil resistance
Good acid resistance
Excellent anti-flex fatigue
Oil seal
Bearing seal
Coolant seal
Packer seal
Turbo charger hose
O-ring
Specialty Elastomer
Liquid Elastomer
Improvement of processability
Reduction of hardness
Process aid
Thermoplastic fluoroelastomer
At room temperature, it shows elasticity, and at high temperature over melting point, it shows good flowability like thermoplastics.
Semiconductor O-ring
DAI-EL Compound
Bisphenol Curable
Peroxide Curable
*Cri-tech Custom Compounding
MORE
DAI-EL
Color CompoundMORE
-
Colorability
Durability
Supple touch
Low friction
Wearables
Consumer goods
High Performance Fluoroelastomers DAI-EL