DAI-EL Peroxide Curable Terpolymers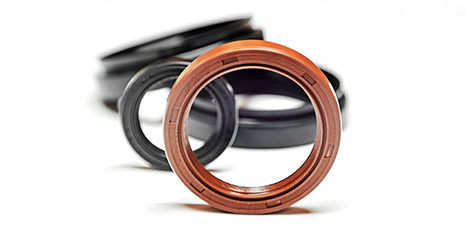 DAI-EL Peroxide Curable Terpolymers have between 67% and 71% fluorine content.
They have better acid resistance, solvent resistance, and overall mechanical properties than bisphenol cured copolymers.
As with peroxide cured copolymers, some reduction in heat and compression set resistance is normal compared with bisphenol cured grades.
- Heat resistance (~200℃)
- Oil resistance
- Fuel resistance
- Low fuel permeation
- Solvent resistance
- Steam resistance
- Acid resistance
They are particularly suited for turbo charger hose, o-ring, oil seal and diaphragm applications in high-heat environments.
Compression and injection molding, low compression set and lower temperature grades are available.
Post curing can be omitted for these polymers.
GRADES
Fluorine content
(mass%)
Mooney Viscosity
(ML1+10@121℃)
Features
DOWNLOADS
G-901
70.5
48
Highest fluorine content.
Excellent chemical resistance, mechanical properties, steam and acid resistance.
Suitable for transfer and compression molding.
TECHNICAL DATA SHEET
G-902
70.5
19
Highest fluorine content.
Excellent chemical resistance, mechanical properties, steam and acid resistance.
Suitable for injection, transfer and extrusion molding.
TECHNICAL DATA SHEET
G-912
70.5
56
Highest fluorine content.
Excellent chemical, steam and acid resistance as well as good compression set.
Suitable for injection, transfer and extrusion molding.
TECHNICAL DATA SHEET
G-922
70.5
25

Highest fluorine content.
Excellent compression set, chemical, steam and acid resistance.
Excellent mold flow. Suitable for injection molding.

TECHNICAL DATA SHEET
G-925
70.5
45
Highest fluorine content.
Excellent compression set, chemical, steam and acid resistance.
Excellent mold flow. Suitable for injection molding.
TECHNICAL DATA SHEET
G-952
69
40
Excellent mechanical properties, steam and acid resistance
Good balance of chemical resistance and low temperature flexibility.
Suitable for transfer and compression molding.
TECHNICAL DATA SHEET
G-962
67
27
Excellent mechanical properties, steam and acid resistance
Good low temperature flexibility.
Suitable for injection molding.
TECHNICAL DATA SHEET
G-964
67
48
Excellent mechanical properties, steam and acid resistance
Good low temperature flexibility.
Suitable for injection molding.
TECHNICAL DATA SHEET
G-9062
70.5
23
Highest fluorine content.
Excellent compression set, chemical, steam and acid resistance.
Excellent mold flow. Suitable for injection molding.
TECHNICAL DATA SHEET
G-9074
70.5
42
Highest fluorine content.
Excellent compression set, chemical, steam and acid resistance.
Excellent mold flow. Suitable for injection molding.
TECHNICAL DATA SHEET