Advanced range of low GWP HFC and HFC blends for the domestic, industrial and commercial segment, meeting the ongoing global regulation about HFC phase down.
For more than 80 years, Daikin has been a leading producer of fluorine refrigerants. Daikin has been providing refrigerants that meet diverse needs as a refrigerant manufacturer.
As the industry faces the regulations to phase out Ozone Depleting Substances, known as the Montreal Protocol, Daikin has been at the forefront of the drive to provide refrigerants with a lower environmental impact. In 1991, we began Asia's first mass production of HFC-134a, and in 1997, we built the world's first commercial scale plant of HFC-32. And now, the world is trying to make a big step forward towards countermeasures against global warming, such as the entry into force of the Paris Agreement and the start of HFC phase down under the Kigali Amendment.
Daikin is the only company in the world dedicated to manufacturing both air conditioning systems and refrigerants. With this unique situation, we continue to develop new refrigerants, which can raise energy efficiency on equipment and lessen the environmental impact. Daikin is committed to explore and adopt cutting-edge technology, in order to continually offer value-added and solution-based products and services to customers. Moreover, all the Daikin group will achieve this target by not only refrigerant conversion, but also by conducting comprehensive measures such as reducing refrigerant charge volume, reducing refrigerant leakage and promoting recovery and recycle of refrigerants.
For further information, please check out our sustainability section.
Selecting the right Lower GWP refrigerant gas for each application
The short-term pressure to retrofit high GWP gases in commercial systems and the anticipated future decrease in F-gas quota and Kigali Amendment means that predicting today the right alternative is critical for future service. Many criteria enter into consideration for refrigerant operators.
To help them in their task, Daikin developed Creard, a comprehensive range of low GWP HFC refrigerants, suitable for domestic, commercial, and industrial refrigeration and air conditioning.
Daikin has been at the vanguard of the initiative to provide environmental compliant refrigerants. The only company in the world manufacturing both air conditioning systems and refrigerants for nearly 80 years, Daikin is the best positioned to offer solution dedicated to energy efficiency while reducing the environmental impact. With its extensive knowledge of the current standards, legislation, and emerging technologies, Daikin helps operators to keep an eye on the future of safety and environmental responsibility concerns.
Quick access to basic physical data and temperature/pressure reference for a wide range of refrigerants.
Grades
Type
Applications
Product
Creard
Lower GWP refrigerants
Commercial refrigeration

Creard R-407H

Creard R-448A (only for Japan)

Industrial refrigeration
Air conditioning for ship
HFC
HFC refrigerants
Stationary Air Conditioning
HFC-32, HFC-134a, HFC-23, R-410A, R-407C, R-404A
Industrial
Commercial
HCFC
HCFC refrigerants
Stationary Air Conditioning
HCFC-22
Industrial
Commercial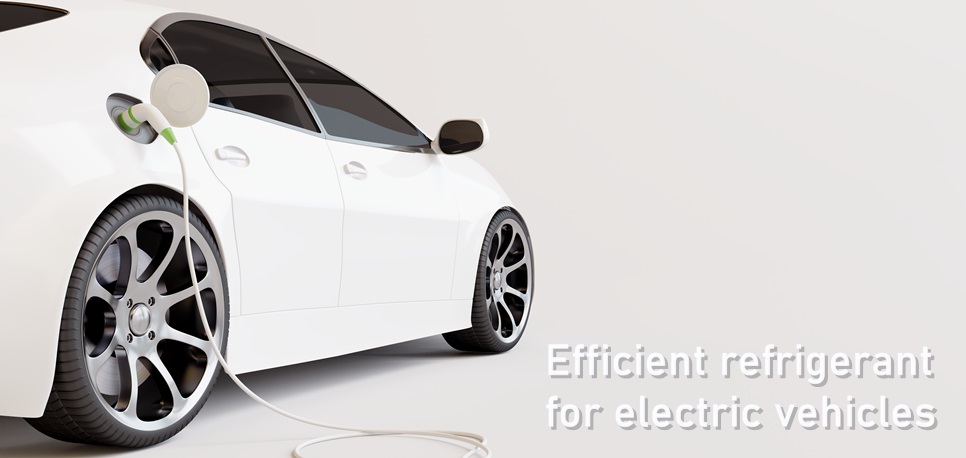 Under development material
08/2021 (04/2023 updated)
Automotive refrigerant
(under development)
Daikin's latest refrigerant with low environmental impacts is designed for automotive HVAC applications. It delivers increased cooling and heating capacity with superior efficiency. In particular it excels in delivering strong heating performance for an electric vehicle passenger cabin, where the exhaust heat from the combustion engine is not available, and the use of resistance heaters limits the vehicle's range.