UNIDYNE Technical Center Shanghai
The UNIDYNE Technical Center is a company based laboratory that supports technology for UNIDYNE water and oil repellents. It was established as a technical base in China, the world's largest market for water and oil repellents used in textiles, paper, and non-woven fabrics, to accurately assess market needs and quickly respond to market needs with new product development.
Fluoroelastomer with different properties and its application to automotive interiors
Fluoroelastomers are increasingly expected to be applied to automotive interiors as a material that responds to changes in needs of the automotive market.
SEMI 2021 presentation
Challenges in advanced contaminant management from materials science perspective
At the SEMI 2021 conference, Mr.Hiroyuki Hamada, Senior scientist, Product R&D development dep., Chemicals div., Daikin Industries, Ltd., gave a lecture on the challenges of advanced pollutant management in the production process of semiconductor device manufacturing equipment from the perspective of materials science.
Under development material
Transparent piezoelectric film
(under development)
The new transparent piezoelectric film developed by Daikin features a unique property called ferroelectricity that converts force, strain, temperature change, and electrical energy in both directions. Additionally, because of its excellent transparency and flexibility, it is expected to become a key material for pressure-sensitive touch panels and wearable devices.
OPTOOL anti-smudge coating webinar by technical expert
OPTOOL is designed to bond to surface and can act as an anti-smudge coating mitigating the transfer of fingerprints to the modified surface.
In this webinar, Daikin technical expert is going to introduce the OPTOOL family, explain the properties, performance evaluation and application methods of OPTOOL.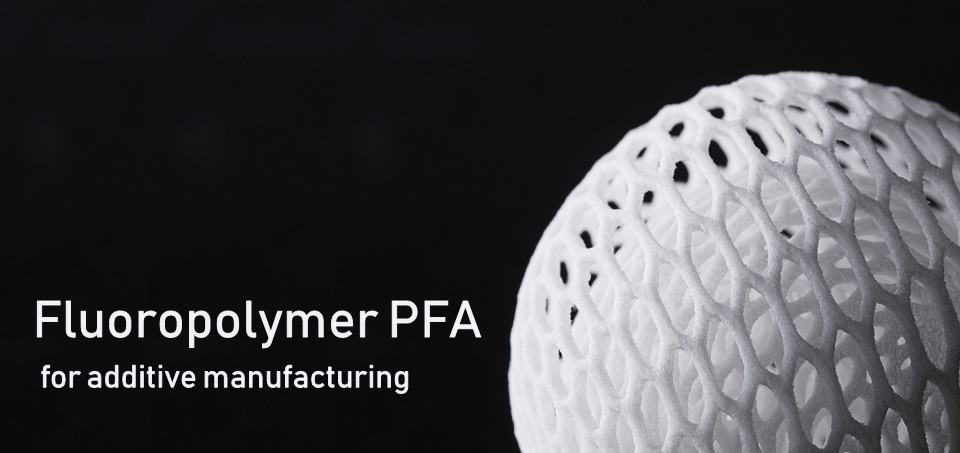 Fluoropolymer PFA for powder bed fusion
(under development)
Since high-performance materials for additive manufacturing have been developed, Daikin is developing powders for the powder bed fusion method, one of the additive manufacturing method, using fluoropolymers, a type of super engineering plastics, as raw materials. This article presents PFA powder, suitable for this method, and the physical properties of molds.
Durable coating polymer ZEFFLE MZ for infectants and sterilants of medical devices
With the increasing demand for more infection control, the disinfectant and sterilization of medical devices is becoming more powerful, and the degradation of materials used in medical devices is becoming more serious.
To solve this problem, we offer durable coating materials ZEFFLE MZ that are resistant to various disinfectants and sterilants.
Igniting downstream consumer demand with "Goodness of Feel" for high-touch surfaces
In this white paper, Daikin aims to describe the process by which the idea of the "Goodness of Feel" property was developed and how it can be correlated to other simple surface properties. By understanding the details of this story those familiar with hydrophobic coating technology can take advantage of this concept and utilize it to enhance the downstream value provided by their own products.
UV-durable, water repellent coatings for automotive applications
Daikin has created a new fluorocoating, OPTOOL UD120, based on our proprietary PFPE technology with significantly increased UV resistance while maintaining water/oil repellency and abrasion resistance properties. This advanced technology is well suited for automotive applications such as camera lenses, LIDAR modules, touch displays and windows.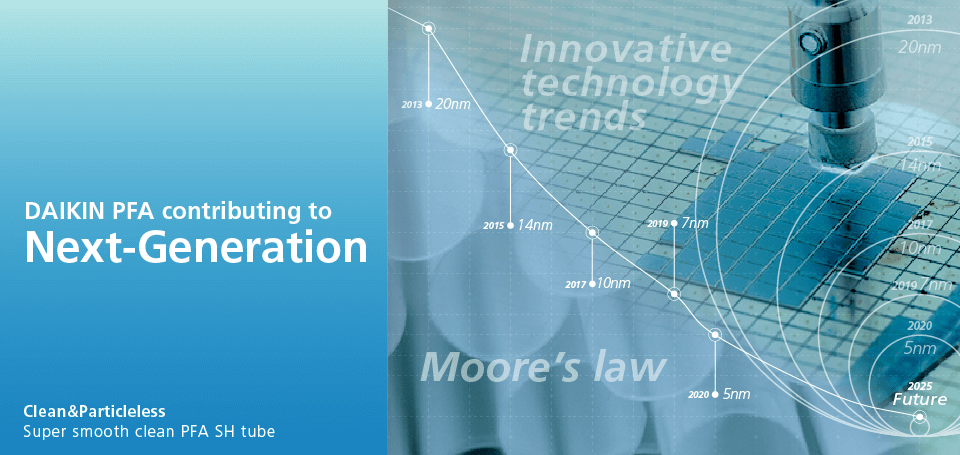 Recent progress on the measurement methodology of surface roughness inside the PFA tubes
We assume that in order to discuss the possibility of residence of nano-sized particles on the inner surface of PFA tubes for semiconductor manufacturing equipment, the method for measuring the surface roughness inside the tubes must be newly invented. This report makes a proposal for a method to measure surface roughness at the nano-level and demonstrate the necessity for this measurement.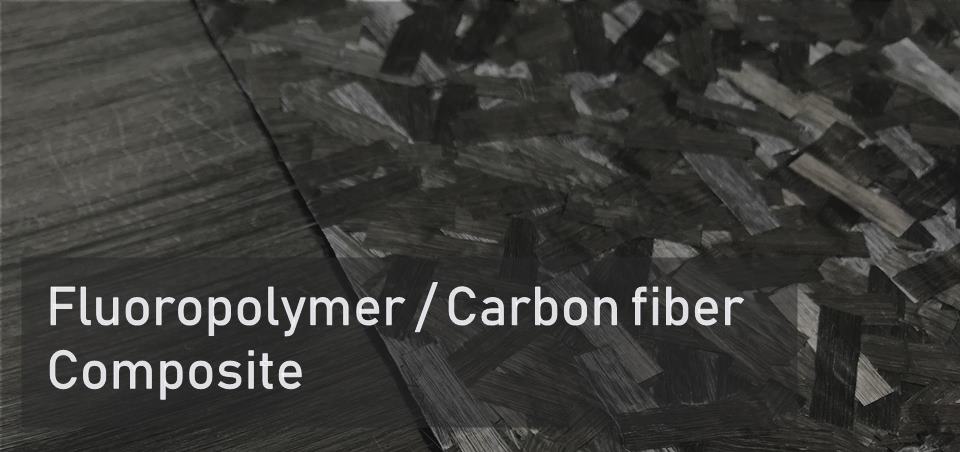 Under development material
Fluoropolymer / carbon fiber composite

(under development)
Daikin's new developed "Fluoropolymer / carbon fiber composite" is a type of CFRTP (Carbon Fiber Reinforced Thermo Plastic) with excellent chemical resistance.
It is also expected to be used in various applications that require structural strength, light weight, impact resistance, water and oil repellency, slidability, and heat resistance.
Under development material
Automotive refrigerant
(under development)
Daikin's latest refrigerant with low environmental impacts is designed for automotive HVAC applications. It delivers increased cooling and heating capacity with superior efficiency. In particular it excels in delivering strong heating performance for an electric vehicle passenger cabin, where the exhaust heat from the combustion engine is not available, and the use of resistance heaters limits the vehicle's range.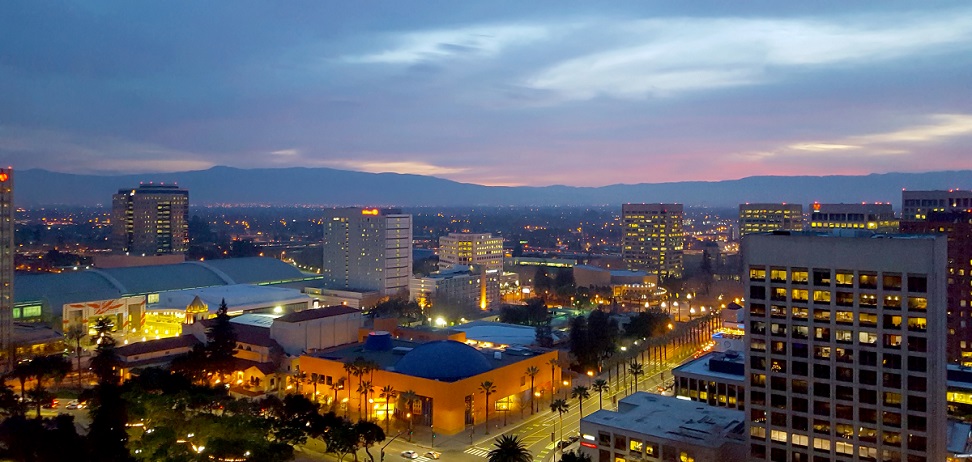 Daikin San Jose Office - Silicon Valley Coating Applications Lab
Daikin prioritizes being accessible to their clients, and to bring the best possible technical assistance. Daikin's global presence includes an open innovation facility in the heart of Silicon Valley.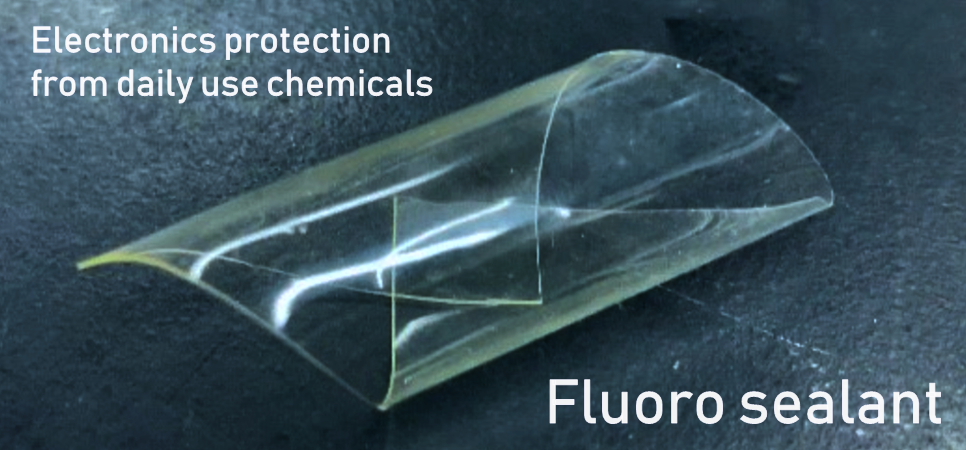 Under development material
Fluoro sealant (under development)
Fluoro sealant is a sealing material with excellent chemical resistance and moisture resistance. It is solvent-free, environmentally friendly, and can be applied to various application methods. It can be expected to be various applications such as important sealing material for sensors.
Staying behind the wheel of mobility
We are entering the most exciting yet challenging era since the invention of the automotive. The entire value chain must adapt accordingly, creating synergies with their developments. Daikin's Goal is to assist automotive engineers with their new challenges, relying upon the company's vast interdisciplinary knowledge.
The 4 mobility trends requiring new materials
Coming from complex, multi-material moving parts in internal combustion engine (ICE) powertrains, the industry is moving towards simplified electrical powertrains with fewer parts. Daikin has worked alongside OEMs for many years and anticipated this transformation. Daikin's agility stems from its comprehensive portfolio of solutions for the mobility industry.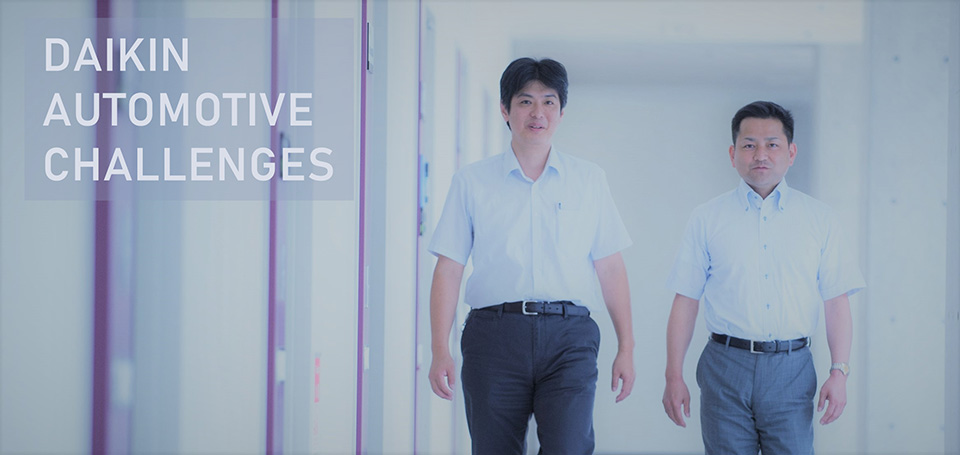 DAIKIN AUTOMOTIVE CHALLENGES
Vol.1 Chemicals in autonomous driving cars
Naoki Suganuma, an associate professor at Kanazawa University, leads the team to become the first Japanese university to conduct verification tests for autonomous driving on Japanese roads. He joins Nobuhiro Shinka, Marketing Department General Manager in the Chemicals Division at Daikin Industries, to discuss what chemical manufacturers can do in the field of autonomous driving.