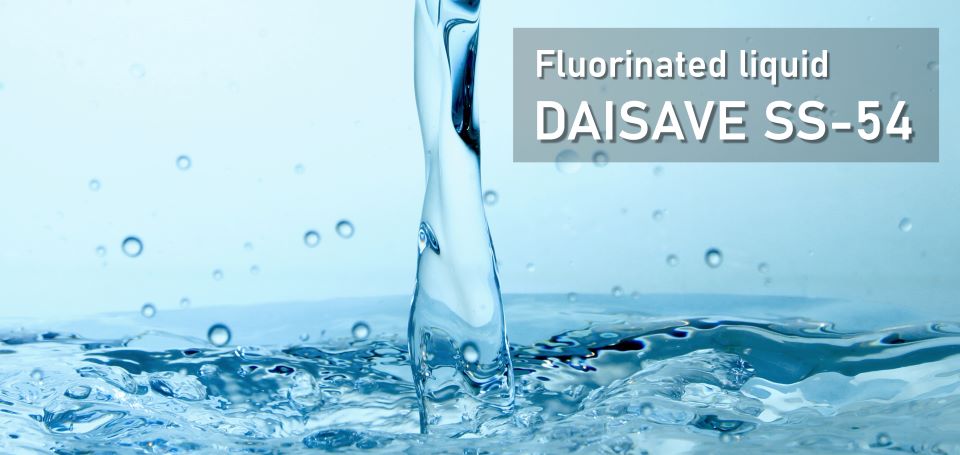 Fluorinated liquid
DAISAVE SS-54
DAISAVE SS-54 is an environment friendly fluorinated liquid with low global warming potential (GWP).
This fluorinated liquid is widely used in semiconductor, automotive and electronics manufacturing applications, etc.
- DAISAVE SS-54 is a hydrofluoroether (HFE)
- Environment friendly (low global warming potential (GWP) and zero ozone depletion potential (ODP))
- No flash point
- Quick-drying and easy to handle
- Equal thermal stability as HFCs, stabler than HFOs
General physical properties
Items
Unit
Value
Boiling Point

°C

54
Freezing Point

°C

-92
Flash Point

°C

None
Liquid Density


g/cm

3
1.39
Surface Tension [23°C]

mN/m

16.2
Kinematic Viscosity

cSt

0.4

Water Solubility [21°C]

ppm

630
GWP (Global Warming Potential)
-
101
Repeated Dose Inhalation Toxicity (28 days)
ppm
20,000
Various types of materials were exposed to DAISAVE SS-54 for one week at room temperature.
Following materials are compatible.
Category
Materials
Plastics

ABS, AS, Epoxy glass, PA6, PA66, PBT, PC, PE, PET,

PF, POM, PP, PPE, PPS, PS, PVC, PTFE

Elastomers

Chloroprene rubber, Chlorosulfonated polyethylene, Nitrile Rubber,

EPDM, Butyl rubber, Natural rubber

Metals

Magnesium, Aluminum, Titanium, Iron, Nickel, Copper, Zinc, Molybdenum,

Silver, Tin, Tantalum,Tungsten, Lead, Brass, SUS 304, SUS 316
- Cleaning
Precision cleaning of electronic components, removal of particulates and light crude oil, cleaning of fluorinated oil, etc.

- Dilution solvent
Lubricant solvent, reaction solvent, etc.

- Heat transfer fluid
Coolant liquid for semiconductor, heat pipe & heat pump fluid, etc.
* The above properties are representative and not guaranteed.
* All physical property values @25°C unless otherwise specified.
Please feel free to contact us for any questions or sample requests.