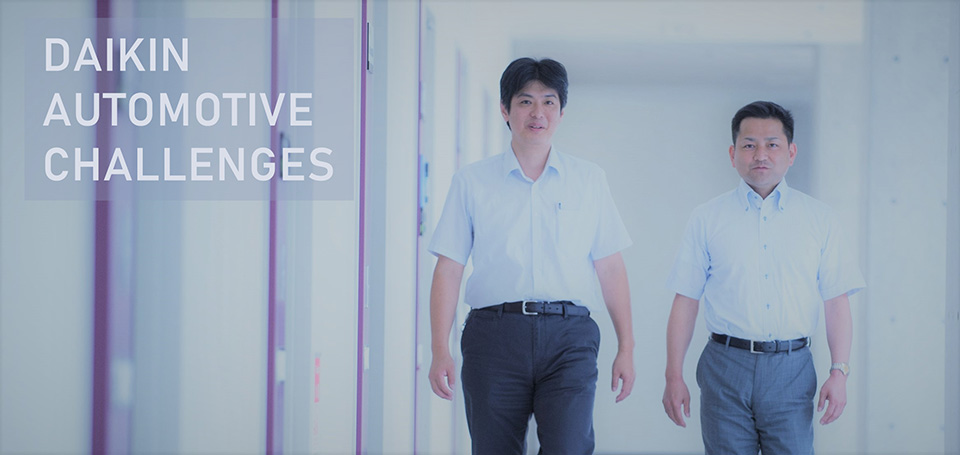 Kanazawa University
Institute for Frontire Science Intiative
Future Society Creation Research Core
Autonomous Vehicle Research Unit
Associate Professor, Ph.D. in Engineering

Daikin Industries,LTD.
Chemicals Division
Marketing Department Manager

Vol.1 Chemicals in autonomous driving cars
Untapped needs still exist for the devices and precision equipment that support the realization of autonomous driving. Understanding the technology necessary for autonomous driving provides a glimpse of the role that manufactures play comes into view. Naoki Suganuma is an associate professor at Kanazawa University. He leads the team to become the rst Japanese university to conduct verication tests for autonomous driving on Japanese roads. He joins Nobuhiro Shinka, Marketing Department General Manager in the Chemicals Division at Daikin Industries, to discuss what chemical manufacturers can do in the eld of autonomous driving.
The Chemicals Division has a research center in San Jose, United States. Here we have committed resources to activities in pursuit of advanced technologies to leverage the special properties of chemical materials, including applications for autonomous driving and life science. Professor Suganuma, during your approximately 20 years of conducting research on autonomous driving, have you ever collaborated with overseas research institutes?
I'm a member of various international societies and participate in international conferences where information is exchanged. Because we have many technologies, we perform peer reviews and are able to follow the general trends of laboratories with cutting edge research.
From a global perspective, do you think which countries and which manufactures are one-step ahead?
Apart from the information that a manufacturer discloses to the media, manufacturers generally do not provide details. In the scientic community, there is a strong impression that U.S. and German manufacturers are more active in announcing results. European and American manufacturers typically have people engaged in research who have doctorate degrees. Unfortunately, in Japan, rather than conducting research, cars belong to the world of engineering and are regarded as a mature field of study.
Expertise of chemical manufacturers necessary to refine sensors and radar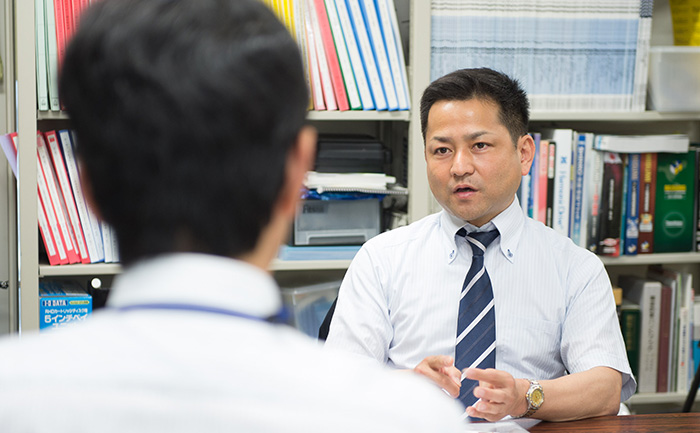 Recently, there have been many incidents of elderly people mistaking the accelerator for the brake. Just preventing this would be meaningful for society. Do you have any advice for chemical manufactures on how they can contribute to the sensors for autonomous driving to eliminate this problem?
One example would be the great need for technology that automatically cleans dirt and stains on sensors and makes it difficult for sensors to get dirty in the first place.

When driving several hundred kilometers on the highway, there are many cases of hordes of insects sticking to the car. Because the stain sticks on the sensors, there is a need to equip sensors inside the car. However, the surfaces of window screen are occurred reflections. Even in the case of cameras, the light entering the camera generates a diffused reflection between the glass surface and the lens, making it difficult to see. There is even a demand to transmit only the light of the signal component you want to see. When speaking of "visibility," the visibility of a sensor diers from that of a person. Consequently, there are many ways that a chemical manufacturer can contribute such as technological development that makes it easy for sensors to detect the necessary light.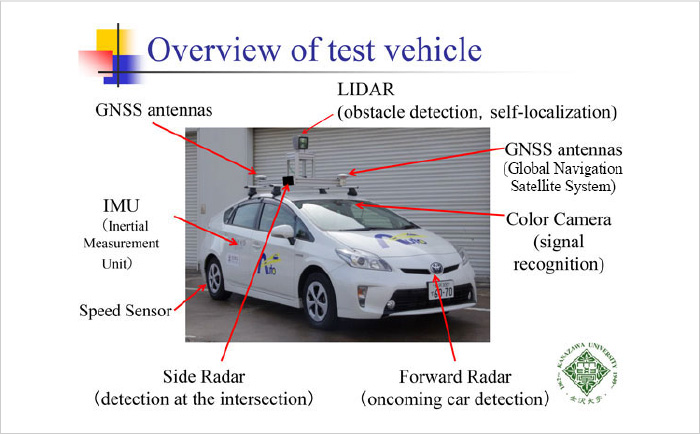 Our fluorochemicals have the characteristic of being stain-resistant as seen in the case of the coating used for fry pans. Additionally, we also have put eorts into technological development of surface functional materials for controlling reflection, improving surface repellency, hydrophilicity, and durability, and hardening surfaces. Processing technology, including analysis and evaluation, is naturally Daikin' s strength and is used in prevention of camera-related fouling, optical control, and optical fiber materials.

Because visibility as seen by the human eye is easy to evaluate, it is being incorporated into material design, but in the future it will be necessary to evaluate and analyze from the standpoint of visibility as seen by a sensor.
Manufacturers involved with sensor devices and signal processing are searching for materials and chemical components corresponding to the special characteristics of sensors. As the product development cycle becomes quicker when these manufacturers can effectively collaborate with chemical manufacturers from the initial design stage, this provides a very good situation.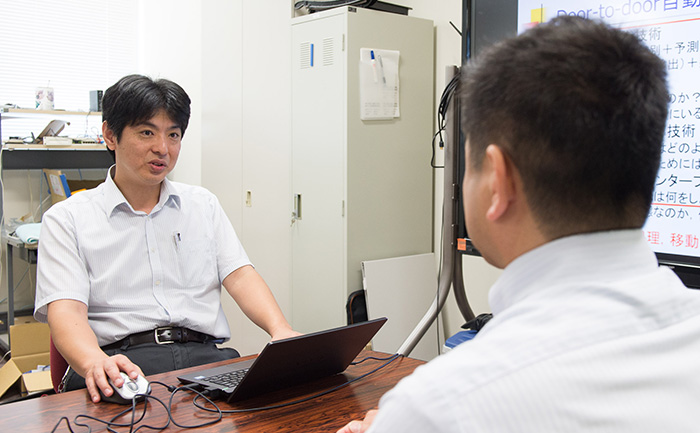 In November 2015, we established a research facility called the Technology and Innovation Center (TIC). It supports Daikin' s air conditioning and chemicals divisions and has 700 researchers specializing in mechanical, electrical, and chemical engineering. Here we are collaborating with outside universities, research organizations, and other companies while experimenting with new product development in the form of open innovation.
Because visibility as seen by the human eye is easy to evaluate, it is being incorporated into material design, but in the future it will be necessary to evaluate and analyze from the standpoint of visibility as seen by a sensor.
From the university perspective, there are many opportunities for us to consult with a variety of companies. Companies that practice open innovation give us the impression that they have materials with a bright future.
Urgent issue of thermal management in autonomous driving
What do you think about the issue relating to thermal management in autonomous driving?
Full autonomous driving requires loading the car with operation devices that perform a tremendous amount of calculation, I think that the problem of thermal radiation is an urgent issue. With sizeable thermal load accompanying the NVIDIA chip, the computer may shut down when the heat is not thoroughly dissipated during learning by AI-related technology for deep learning or determining calculations. There is heat even for sensors when lasers are used, and the thermal problem arises from a variety of sources.
What quantity of electricity is needed for autonomous driving?
Only one CPU is equipped in the car we use for autonomous driving but even the electricity for that is 400-500W. When including sensors, it becomes a considerable amount of electricity.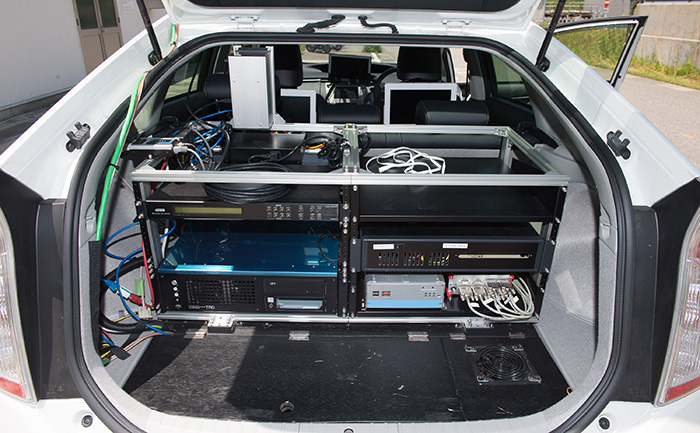 Currently, we are also working on thermal management materials such as for heat dissipation, thermal insulation, and insulation. Fluorochemicals have a low dielectric constant and the amount of electrical loss is small. This special property is utilized in electrical wire, antenna material, mobile phone base stations, and printed circuit boards. Furthermore, simulations and analysis capacity related to the heat distinctive to air conditioners are made core technologies. I think it would be good to make proposals to autonomous driving car manufacturers and parts manufacturers by expertly incorporating these things with chemical materials.
I am surprised to hear that because I didn't know that specialty air conditioning manufacturers have yet to take up the area of heat radiation. This would suggest that the knowledge of chemical manufacturers is not greatly reflected in cars at this current stage.
You're absolutely right. 10-20 years of durability is sought for cars, so fluorochemicals are used for parts needing reliability like seal parts for around the internal combustion engine and fuel tubes surrounding the fuel system. Heat is generated even in autonomous driving, and we would like to utilize chemical material technology in areas requiring durability and reliability. Personally, I am proud of the top-level results we've had in the world for important safety-related parts near the internal combustion engine.
When speaking of autonomous driving, each sensor is an important safety-related part.
Quality control that includes manufacturing stable quality is also our strength. Fluorochemicals are greatly used also in lithium ion batteries. The electrolyte in the electrolyte solution are also fluorochemicals. Fluorochemicals are also used for the gaskets that prevent leaks, and the cathode material, the so-called binder. Also, an investigation is being performed that is looking to use heat resistant materials in the power semiconductors, which are like film condensers, and we are putting energy into development. An investigation is being performed for using fluorine materials in the actuator.
Fluorochemicals are used in areas in which durability and reliability are required.
Panasonic, for example, has applied technology cultivated in its home appliances to parts for automotive. I would like to utilize the technologies Daikin has cultivated in its air conditioning equipment and the strengths of the Chemicals Division and apply them in the future to cars.
Providing solutions while shaping the future of autonomous driving cars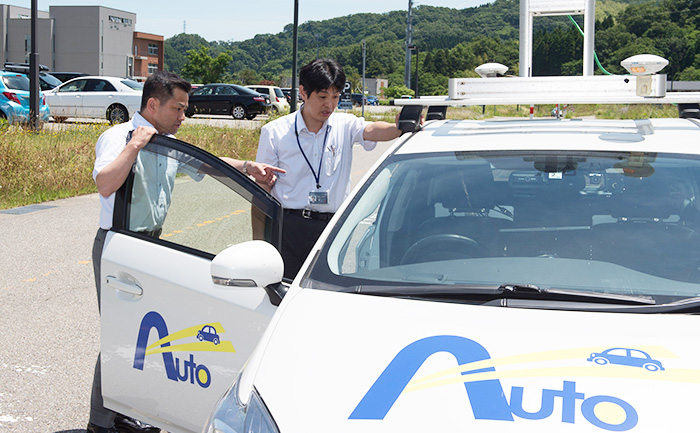 European manufacturers are promoting autonomous driving cars in big, fun ways like sitting in the car for interviews, reading the newspaper, or using a tablet during autonomous driving.


But there is something that baffles me. For Shinkansen (bullet trains), there have been exhaustive efforts made to prevent intoxication while riding the train. Why hasn't there been a discussion about intoxication concerning autonomous driving? I think it is incredibly important for trials to be done to prevent intoxication. Getting intoxicated was a situation we often saw when performing actual tests for autonomous driving. I wonder if it is possible to prevent intoxication by air conditioning.
Research is being done concerning air conditioning by various organizations ranging from preventing intoxication to delaying dementia. I would like to see development of air conditioners being optimized while measuring stress or deterring illness from occurring by improving comfort. I also agree that technological development is necessary to prevent intoxicated drivers from operating autonomous driving car.
There seems to be many important areas in which air conditioning can contribute to autonomous driving.
I agree. By the way, when can we expect to see Level 5 autonomous driving vehicles?
Currently only Level 3 vehicles exist. In the future, I think that a bipolarization of Level 2 which the current ADAS becomes the ultra-advanced edition, and Level 4 & Level 5 could be called full automation driving.
The former is an ordinary car that the general public can acquire because the costs are suppressed. Without this, it would be difficult to mass produce the automobile. In the case of public transportation for Level 4 and Level 5, such as buses or taxis in which route information can be input in advance, the service can be launched soon and be immediately effective as operating management companies can proceed by confirming problems in sensors prior to start of operation.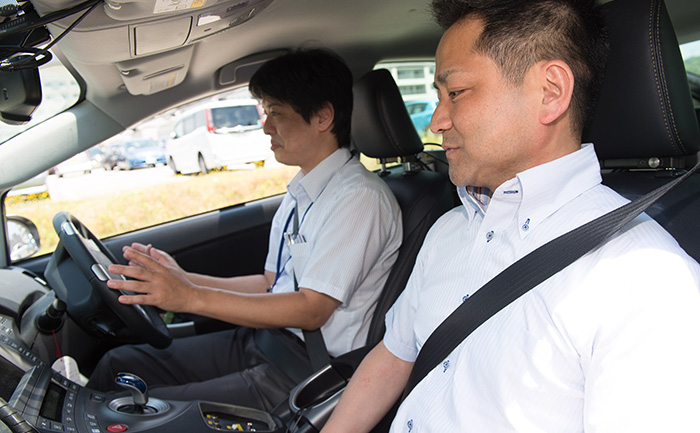 To the question of when society will see general users owning autonomous driving cars, I am afraid that it will take some time. There are cars that can test the image of a self-driving by continually improving the level of driving support. Most of the autonomous driving cars that manufacturers are currently developing are driven only on the highway.

When speaking only of service, I think extensive investigation is necessary There can be no motivation to develop without a dream therefore I would like to move quickly. When service can be created, it will be possible to separate whether full automation driving is better or operation assistance is better. I think a good method is to examine this from the service side.
I think it is greatly rewarding to watch as society changes and know that our technology is playing a role in shaping the future. As Daikin has a variety of solutions available to meet customer needs, I would like to see us contribute in the field of autonomous driving now while making proposals that anticipate the next 5 to 10 years.