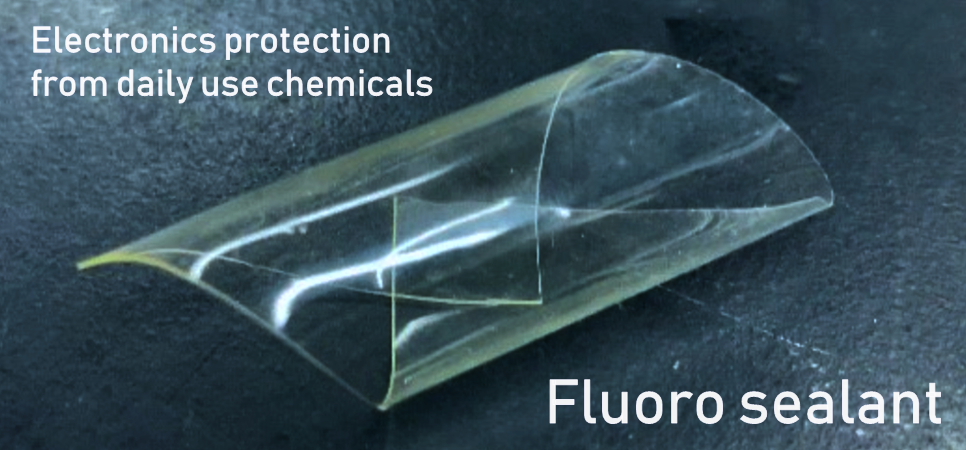 Fluoro sealant
(under development)
Daikin's newly developed "Fluoro sealant" is a sealing material with excellent chemical resistance and moisture resistance. It is solvent-free, environmentally friendly, and can be applied to various application methods. Taking advantage of its characteristics such as workability and flexibility, it can be expected to be various applications such as important sealing material for sensors.
Background of development
In recent years, wearable devices have become widespread and their designs have been diversified. So there is a growing demand for the excellent function to protect the interior of these devices from harsh moisture, organic solvents, and various chemicals. Therefore, we have developed a unique new fluoro polymer with excellent flexibility and environmental friendliness without impairing the high performance of fluoro materials themselves, using Daikin's unique synthetic technology.
- Liquid polymer: compatible with various shapes
- Curable at room temperature
- Excellent chemical resistance: acids, organic solvents etc.
- High breakdown voltage
- Suitable for low temperature use
- Excelllent low vapor permeability
- Low refraction index
- Solvent free
Table.1 General property (after cure)

Test condition
- Contact angle: 2ul droplet, Tensile test: ASTM489
- Tensile test:Chack distance 2mm - ASTM489
- Water vapor permeability: Cup method JIS A6111-2000
- Degradation temperature: TG/DTA, heating speed 10℃/min
Table.2 Solvent absorption rate
(Weight change rate after solvent immersion)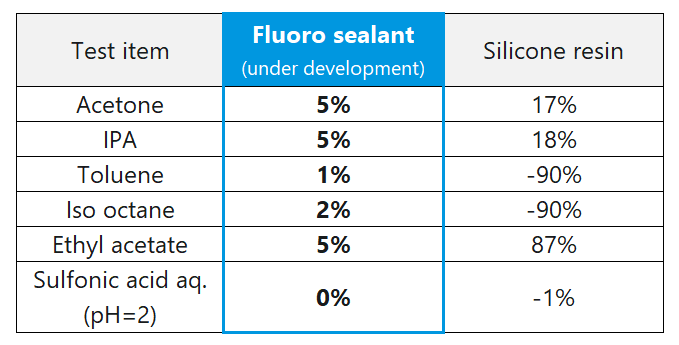 Test condition
- After curing fluoro sealant film on the glass, dip into the various solvent
for 1 week at 25℃ then calculatedabsorption rate from before and after
dipping filmweight.
Table.3 Chemical absorption rate
(Weight change rate after chemical immersion)

Test condition
- After curing fluoro sealant film on the glass, dip into the various chemicals
for 3days at 65℃/90RH%, then calculate absorption rate from before and after
dipping film weight.
- Sunscreen : Neutrogena Ultra Sheer SPF70
- Hand lotion : Nivea cream
- Dish soap : Dawn Ultra
Table.4 Electrical property
(Breakdown voltage, volume resistance)

Test condition
- Breakdown voltage: Compliant with JIS C2110-1975
- Volumetric resistance: Applied voltage: 10V
- Boost voltage: 10KV/16sec
- Film thickness: 0.2mm
Table.5 Refraction index

Test condition
- Measured by ellipsometer
- It can be applied by conventional methods such as needle dispense, jet dispense or spin coating, etc.
- It is possible to fabricate films on the order of μm to mm thick with usual film molding method.
- It takes 15 minutes to surface hardening (until tack-free) , several hours for complete curing.
Image.1 Coating process using a dispenser
Photo.1 Picture of room temperature curing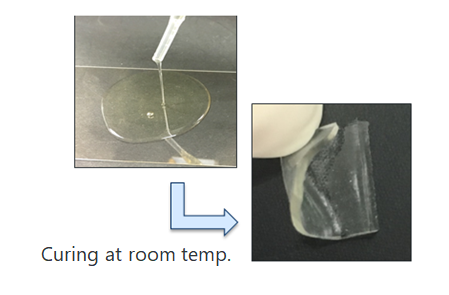 Image.2 Sealant after curing
Expected industries and applications
- Protection use from chemicals or solvents for consumer electronics, wearable devices, automotive and semiconductor devices.
- Water and oil proof coating, moisture proof seal, insulating film, anti reflection film and water repellent for electrowetting.
Please let us know your opinions and impressions about this product.
Note: All of the data shown in this report are not guaranteed.