DAI-EL Bisphenol Curable Terpolymers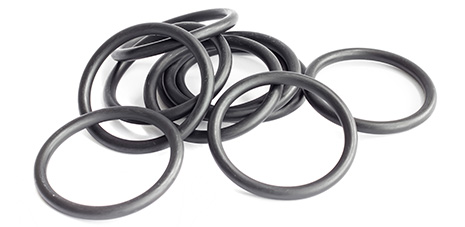 DAI-EL Bisphenol Curable Terpolymers are terpolymers of hexafluoropropylene, vinylidene fluoride and tetrafluoroethylene.
Their fluorine content ranges between 66% and 71%. Like the bisphenol curable copolymers, they are available as both base polymer and precompound.
- Heat resistance (~230℃)
- Oil resistance
- Fuel resistance
- Low fuel permeation
- Solvent resistance
These polymers are ideal for applications that require resistance to fuel mixtures and solvents, such as fuel hoses and seals used in chemical processing.
Injection and compression molding grades, extrusion grades and lower temperature grades are available.
GRADES
Fluorine content
(mass%)
Mooney Viscosity
(ML1+10@121℃)
Features
DOWNLOADS
G-551
68.5
48
Good balance of fluid resistance and low temperature flexibility.
Suitable for compression molding.
TECHNICAL DATA SHEET
G-555
69
35
Good balance of fluid resistance and low temperature flexibility.
Excellent extrusion processability.
TECHNICAL DATA SHEET
G-557
69
34
Excellent fuel resistance and extrusion processability.
Suitable for fuel hoses.
TECHNICAL DATA SHEET
G-558
69
32
Excellent fuel resistance and extrusion processability.
Suitable for fuel hoses.
TECHNICAL DATA SHEET

G-558ES

69

32
Excellent fuel resistance, adhesion to other materials and extrusion processability.
Suitable for fuel hoses.
TECHNICAL DATA SHEET

G-562

68.5

47
Excellent elongation at break and adhesion to metal.
Good balance of chemical resistance and low temperature flexibility.
Suitable for compression molding.
TECHNICAL DATA SHEET
G-565
69
27
Excellent fuel resistance and extrusion processability.
Suitable for fuel hoses.
TECHNICAL DATA SHEET
G-607
66
43
Superior low temperature flexibility.
Suitable for compression molding and transfer molding.
TECHNICAL DATA SHEET
G-621
70.5
50
Highest fluorine content.
Excellent fluid resistance and very low fuel permeation rates.
Suitable for compression molding.
TECHNICAL DATA SHEET
G-663BP
66
30
Superior low temperature flexibility.
Excellent injection moldability.
Not contain curing agent and accelerator.
TECHNICAL DATA SHEET
G-671
66
35
Excellent low temperature flexibility.
Suitable for transfer and compression molding.
TECHNICAL DATA SHEET
G-681

70

35

High fluorine content.

Excellent fluid resistance and low fuel permeation rates.

Suitable for compression and injection molding.

TECHNICAL DATA SHEET
G-684BP
70
44
Excellent chemical ressitance and good compression set.
Excellent injection moldability.
Not contain curing agent and accelerator.
TECHNICAL DATA SHEET