DAI-EL Bisphenol Curable Copolymers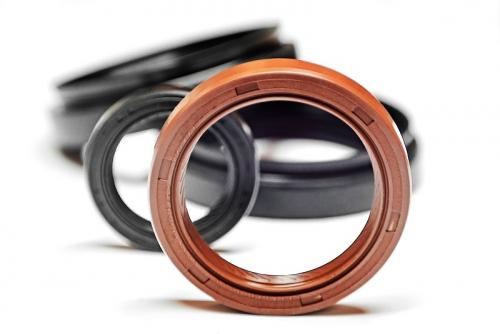 DAI-EL Bisphenol Curable Copolymers are 66% fluorine content copolymers of hexafluoropropylene and vinylidene fluoride.
These products exhibit the best heat resistance and lowest compression set among the DAI-EL family.
Most DAI-EL copolymers are supplied as cure incorporated precompound but specifically labeled base polymers (BP) are available.
These require the addition of a bisphenol curing agent and an accelerator.
- Heat resistance (~230℃)
- Oil resistance
- Fuel resistance
- Solvent resistance
- Low temperature property(Tg:-17℃)
They are particularly suited for o-ring and oil seal applications in high-heat environments. We offer injection and compression molding grades, extrusion grades, metal adhesion grades, and compression set resistant grades.
GRADES
Fluorine content
(mass%)
Mooney Viscosity
(ML1+10@121℃)
Features
DOWNLOADS
G-310HBP
66
47
Excellent compression set.
Suitable for compression molding.
Not contain curing agent and accelerator.
TECHNICAL DATA SHEET
G-310LBP
66
23
Good mold flow.
Suitable for injection molding and transfer molding.
Not contain curing agent and accelerator.
TECHNICAL DATA SHEET
G-310MBP
66
36
Excellent compression set.
Suitable for compression molding, transfer molding and injection molding.
Not contain curing agent and accelerator.
TECHNICAL DATA SHEET
G-311
66
36
Excellent compression set.
Suitable for compression molding, transfer molding and injection molding.
TECHNICAL DATA SHEET
G-343
66
23
Good mold flow.
Suitable for injection molding and transfer molding.
TECHNICAL DATA SHEET
G-372
66
30
Excellent elongation at break.
Suitable for transfer molding and compression molding.
TECHNICAL DATA SHEET
G-373
66
30
A good balance of roll mixing processability and mechanical properties.
Suitable for transfer molding and compression molding.
TECHNICAL DATA SHEET
G-381
66
40
Excellent compression set.
Suitable for compression molding.
TECHNICAL DATA SHEET
G-383
66
40
Excellent compression set.
Suitable for compression molding.
TECHNICAL DATA SHEET
G-701
66
41
Excellent compression set and mechanical properties.
Suitable for compression molding.
TECHNICAL DATA SHEET
G-701BP
66
41
Excellent compression set and heat resistance.
Suitable for compression molding.
Not contain curing agent and accelerator.
TECHNICAL DATA SHEET
G-701M

66

43
Excellent compression set and mechanical properties.
Suitable for compression molding.
TECHNICAL DATA SHEET
G-702

66

41
Excellent tensile strength and elongation at break, It is suitable for molding complex shaped products.
Suitable for transfer molding and compression molding.
TECHNICAL DATA SHEET
G-704

66

30
Good mold flow.
Suitable for injection molding and transfer molding.
TECHNICAL DATA SHEET
G-704BP

66

30
Good mold flow.
Suitable for injection molding and transfer molding.
Not contain curing agent and accelerator.
TECHNICAL DATA SHEET
G-716

66

40
Excellent compression set and heat resistance.
Suitable for compression molding.
TECHNICAL DATA SHEET
G-717

66

40
Excellent elongation at break, compression set and heat resistance.
Vulcanizes quickly.
Suitable for compression molding.
TECHNICAL DATA SHEET
G-7210BP

66

28
Excellent compression set.
Suitable for injection molding with good mold flow.
Not contain curing agent and accelerator.
TECHNICAL DATA SHEET
G-7211

66

23
Good compression set.
Good roll mixing processability, mold flow and process safety.
Suitable for injection molding.
TECHNICAL DATA SHEET
G-723F

66

41
Be released from mold easily.
Suitable for compression molding.
TECHNICAL DATA SHEET
G-7320BP

66

38
Excellent compression set.
Suitable for injection molding and extrusion with good mold flow.
TECHNICAL DATA SHEET
G-7400BP

66

46
Excellent compression set.
Suitable for injection molding with good mold flow.
TECHNICAL DATA SHEET
G-7401

66

41
Exellent compression set, mold flow and process safety.
Suitable for injection molding.
TECHNICAL DATA SHEET
G-742F

66

30
Excellent mold flow.
Suitable for injection molding and transfer molding.
TECHNICAL DATA SHEET
G-751

66

32
Excellent roll mixing processability and adhesion to metal.
Suitable for compression molding.
TECHNICAL DATA SHEET
G-755

66

25
Exellent extrusion processability.
TECHNICAL DATA SHEET
G-755BP

66

29
Exellent extrusion processability.
Not contain curing agent and accelerator.
TECHNICAL DATA SHEET
G-755F

66

25
Exellent extrusion processability.
TECHNICAL DATA SHEET
G-763F

66

32
Excellent roll mixing processability and adhesion to metal.
Suitable for compression molding.
TECHNICAL DATA SHEET
G-7801

66

66
Excellent sealing properties with lowest compression set of DAI-EL.
Suitable for compression molding with good mold flow and process safety.
TECHNICAL DATA SHEET
G-797

66

25
Excellent mold flow and mechanical properties.
Suitable for compression molding.
TECHNICAL DATA SHEET