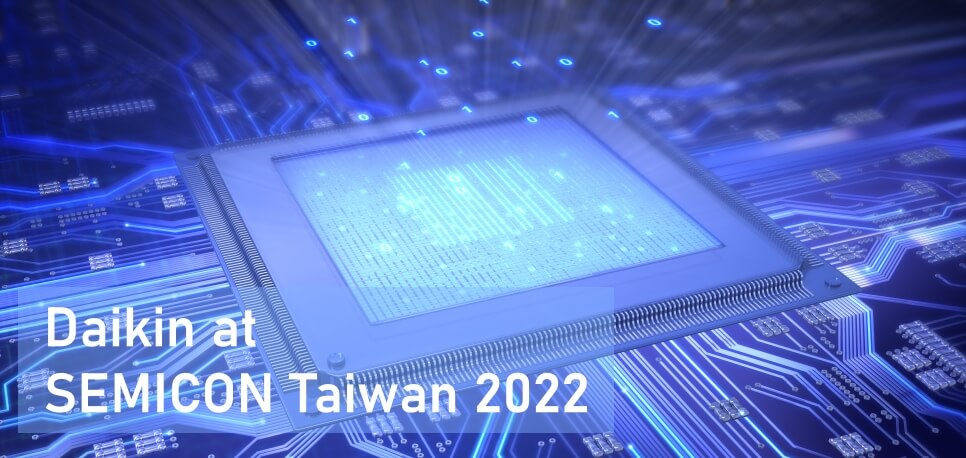 Daikin will exhibit at SEMICON Taiwan 2022
Daikin will be exhibiting at SEMICON Taiwan, 14th - 16th September 2022.
We will be introducing our innovative solutions for semiconductor manufacturing applications.
We are looking forward to welcoming you at our booth!
Dates

September 14th (Wed) – 16th (Fri), 2022

URL
SEMICON Taiwan 2022
Place

TaiNEX 1, Taipei, Taiwan

Booth No. L0405 - 4th Floor

Contents

Fluoropolymer NEOFLON

- Semiconductor manufacturing equipment

- Chemical supply equipment

Semicon Etching Agents

- Silicon wafer etching and cleaning

- Pattern etching of silicon wafers and chamber cleaning for semiconductor manufacturing equipment

Fluoropolymer coatings

- Corrosion resistant coatings on exhaust ducts

Daikin PFA for powder bed fusion

(under development)

Daikin has developed the world's first fluoropolymer PFA suitable for additive manufacturing using powder bed fusion (PBF bonding).

A fluoropolymer PFA, which is excellent in chemical and heat resistance and weatherability, is expected to be developed into semiconductors.