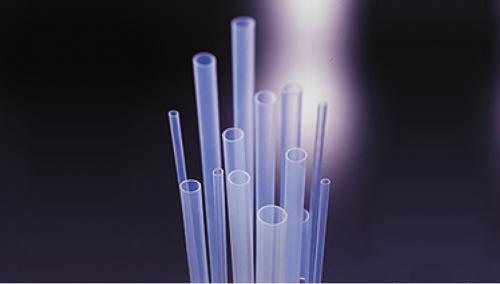 NEOFLON CPT LP-Series is a new type of fluororesin which has excellent barrier properties against chemicals and organic solvents. It offers a beneficial solution to users lining up the grades of melt bonded to polyamide, vulcanized bonded to NBR, ECO and other general purpose rubbers.
- It has higher fuel barrier properties than ETFE resins.
- It can be bonded to general purpose resins by melt coextrusion without plasma treatment or other surface treatment since the adhesive functional group is embedded.
- It can also be applied to rubber hoses since it can be vulcanized and bonded to general purpose rubber such as NBR and ECO.
- Higher transparency than conventional fluororesins.
- Heat resistance
- Chemical resistance, permeability barrier
-Weatherability
- Optical property
- Flame retardant
NEOFLON CPT LP-Series has excellent barriers to chemicals and organic solvents. It has been used in automotives, semiconductor manufacturing equipment and office automation equipment.
- Automotive fuel line (low permeation)
- Fuel tubes, chemical tubes, and ink tubes