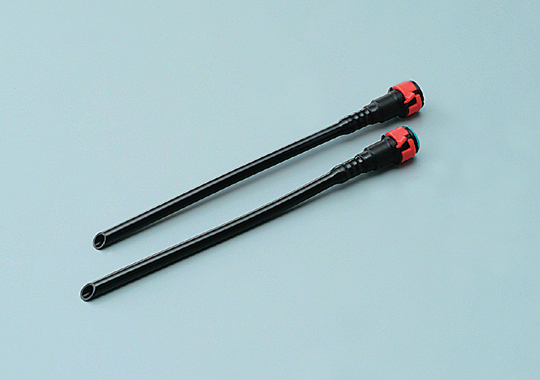 NEOFLON EFEP RP-Series is a resin that can be melt bonded to general purpose resins such as polyamides. Laminating a general purpose resin with EFEP can impart the properties of fluororesin, i.e. chemical resitance, to the general purpose resin.
Besides, the melting point is so low that EFEP has a wide range of molding temperature and can offer an excellent productivity. Moreover it can be co-extruded with many general purpose resins.
- A terpolymer of tetrafluoroethylene, ethylene, and hexafluoropropylene.
- It can be bonded to general purpose resins like polyamides, EVOH, modified polyethylenes, etc. by melt coextrusion without plasma treatment or other surface treatment since the adhesive functional group is embedded.
- A wide range of molding temperature available. Its melting point is 200℃ or less, which is the lowest among fluororesins.
- Higher transparency than conventional fluororesins.
- Chemical resistance is equivalent to that of ETFE resins.
- Chemical resistance, permeability barrier
- Optical property
- Nonadherence
- Slipperiness
NEOFLON EFEP RP-Series is widely used in a variety of applications including the automotive, oil and gas, chemical treatment, semiconductors and films industries.
- Automotive fuel line (low permeation)
- Fuel tubes, chemical tubes and food tubes
- Clear blow molded container