Milan Design Week 2018

Container lid prototypes made from the fluoroelastomer DAI-EL were exhibited during Milan Design Week held from April 17 to April 22, 2018, in Milan, Italy, at the nendo private exhibition of "forms of movement."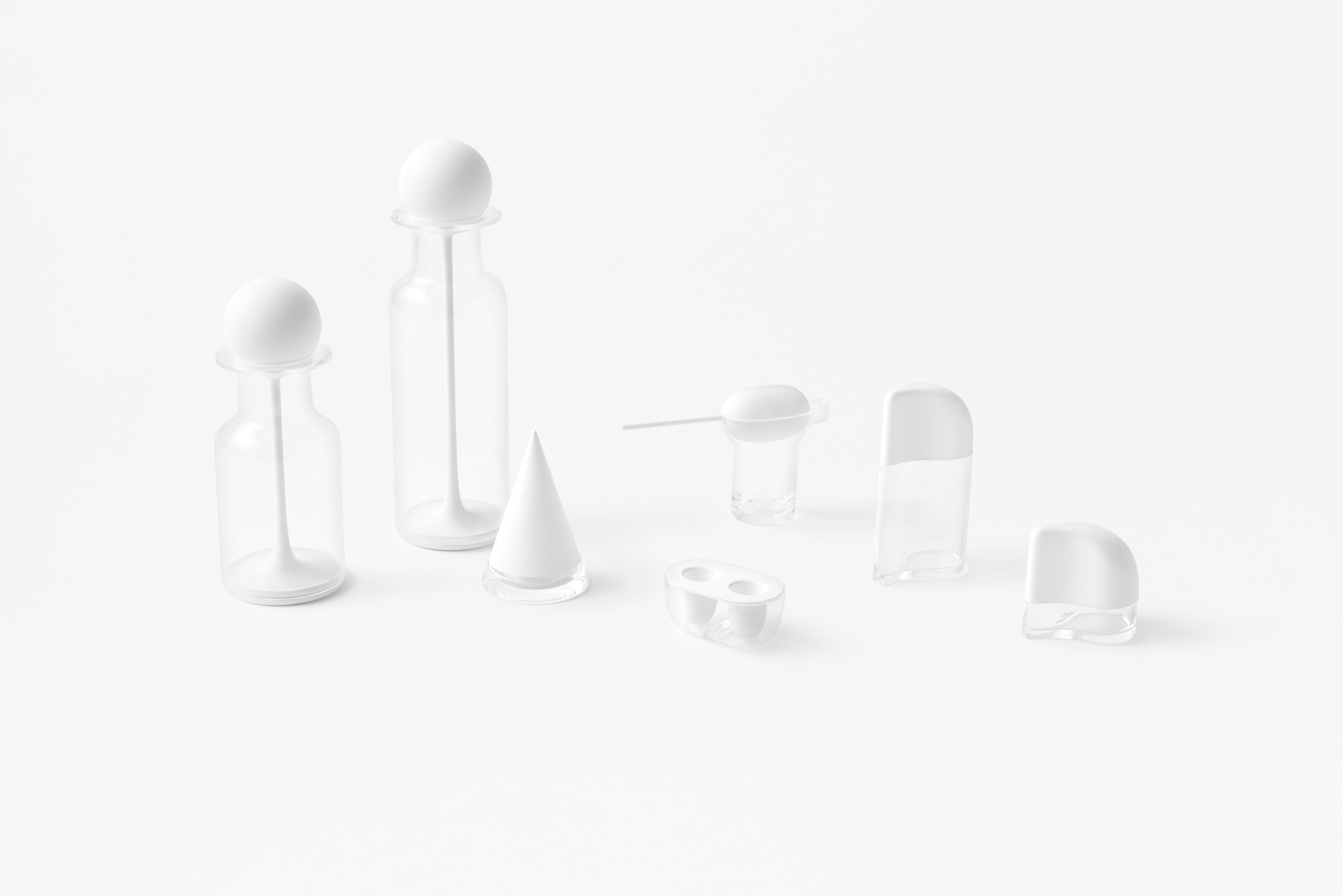 Photo : Akihiro Yoshida
The fluoroelastomer DAI-EL is a material that differs from silicone rubber in that it has a supple and smooth touch with just the right amount of mass that creates a luxurious user experience.
Nendo expressed the touch of DAI-EL as the "strange sensation of giving substance of holding air whose essential nature cannot be touched." To capitalize on the touch and material characteristics, nendo created its "air lids" collection focusing on parts that are often touched, like a lid.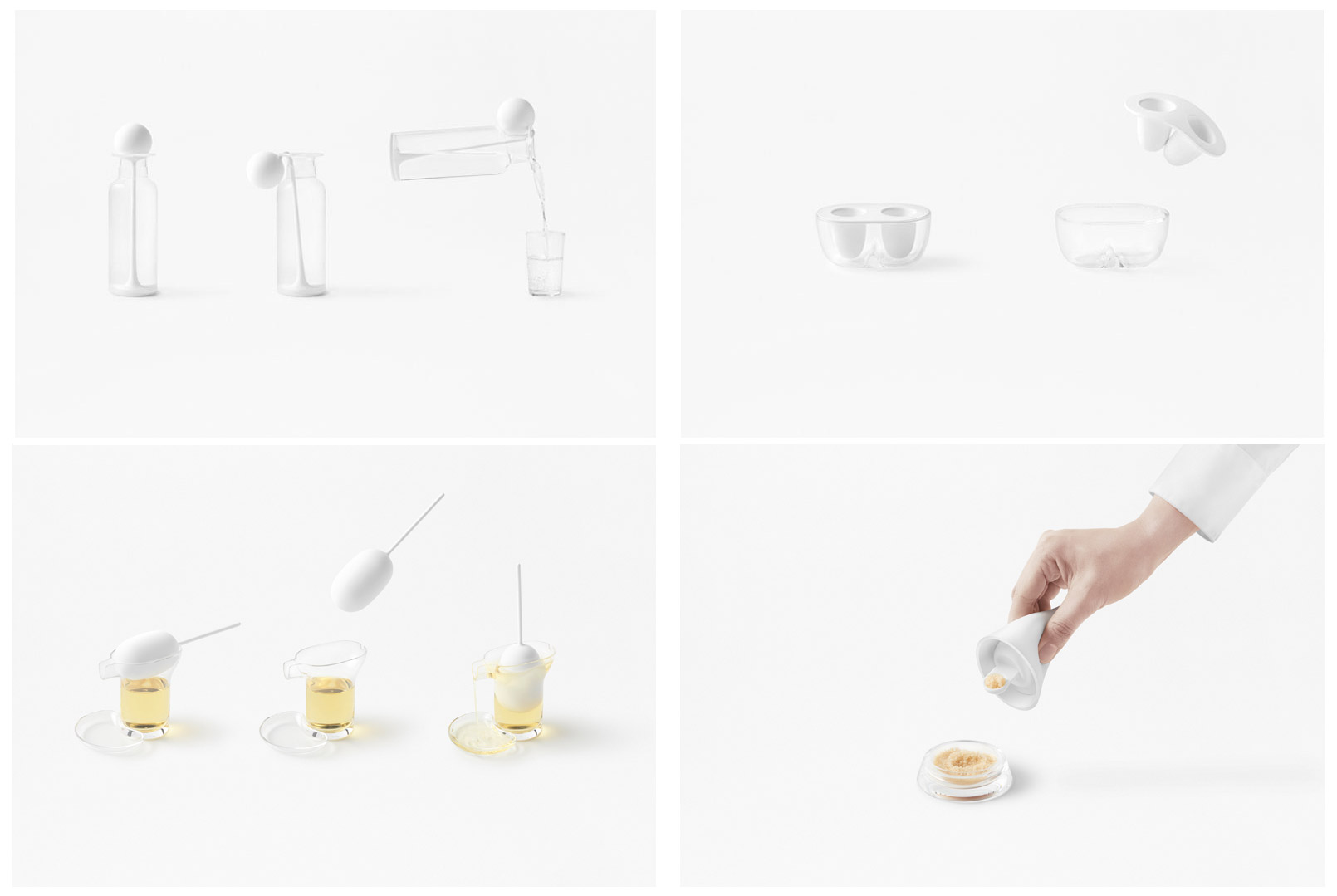 Photo : Akihiro Yoshida
What is DAI-EL?
More than the single function of being pleasant to touch, the fluoroelastomer DAI-EL is also a highly functional, synthetic rubber that demonstrates multiple functions such as high heat resistance, water and oil resistance, non-adhesive and good coloring properties, and discoloration resistance.
From these characteristics, five white prototypes, including a lid with a function that changes shape by its suppleness and stretch properties and a lid that extrudes contents with its weight, were produced and took advantage of non-adhesive properties which make it harder for materials to stick or stain.
Functions of DAI-EL
FLAME RESISTANCE

難燃性

HEAT RESISTANCE

耐熱性

LOW FRICTION

摺動特性

WATER & OIL REPELLENCY

撥水撥油性

NON-STICKINESS

非粘着性

CHEMICAL RESISTANCE

耐薬品性

WEATHER RESISTANCE

耐候性

STEAM RESISTANCE

耐水・耐スチーム性
Click here to learn more about the fluoroelastomer DAI-EL.
DAI-EL MATERIAL
air lids
Filming : Akihiro Yoshida / Film Directed by nendo
At the venue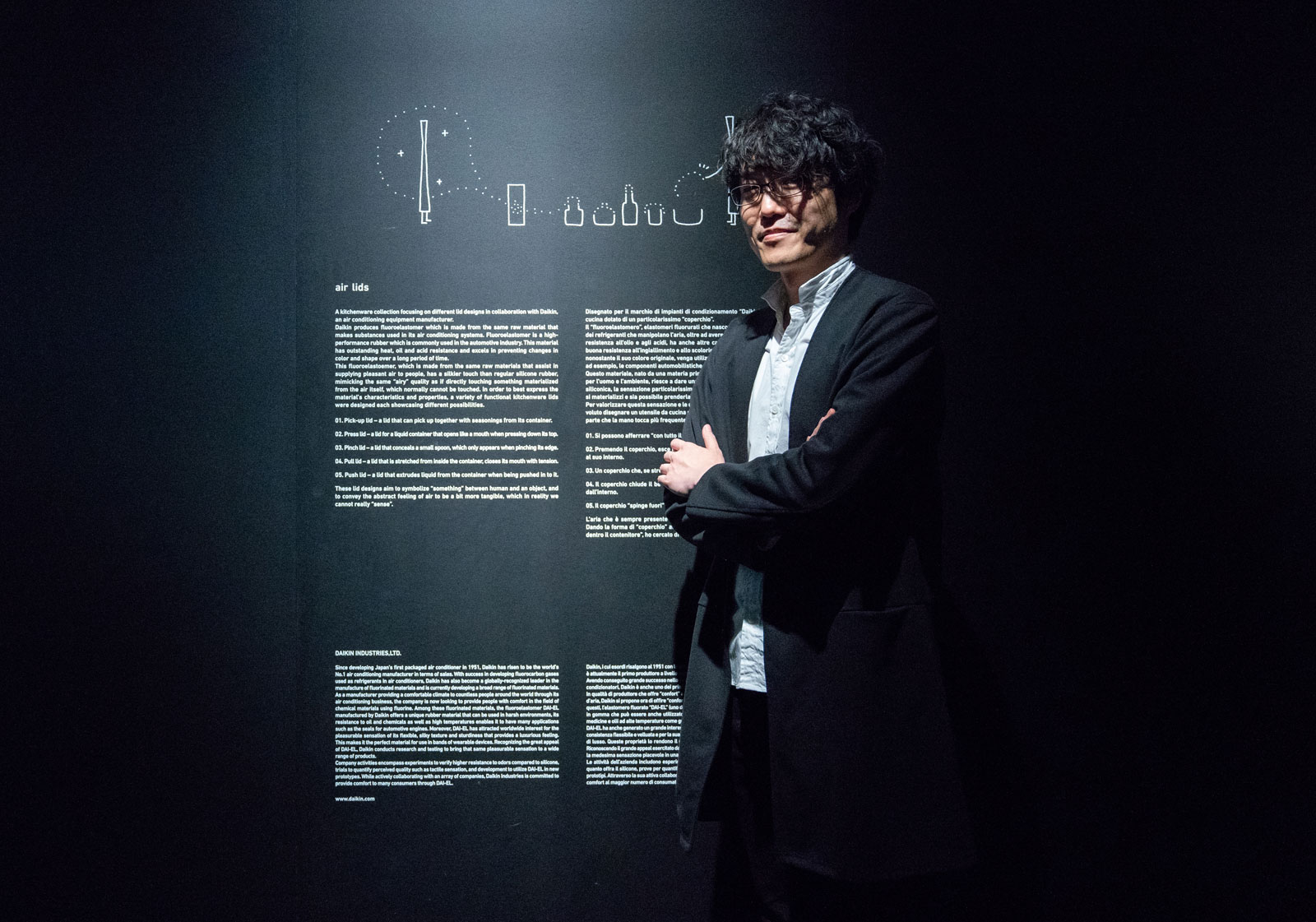 Photo: Hirofumi Yamazaki
Mr. Oki Sato, Chief Designer of the design studio nendo which created air lids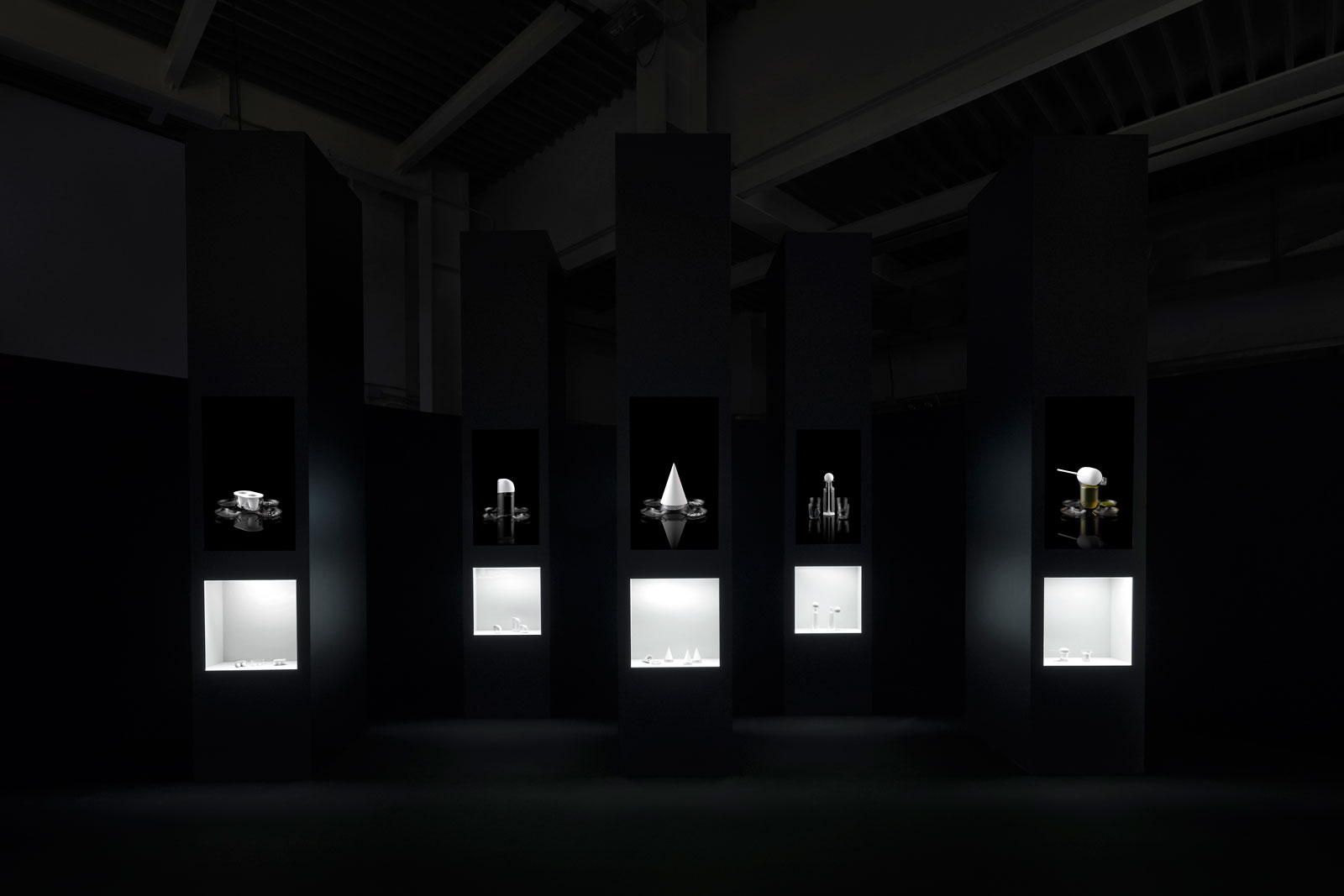 Photo : Takumi Ota
"air lids" being exhibited at the nendo private exhibition "forms of movement"
nendo
nendo - Oki Sato is Chief Designer and Founder of nendo.
Born in 1977 in Toronto, Canada. Received M.Arch. from WasedaUniversity, Tokyo in 2002.
Established design studio "nendo" in the same year. Activity in the design world has not been limited to any one area but is rather multifarious, spanning from graphic and product design to designing furniture, installations, windows, and interiors, and even reaches into the realm of architecture.
Chosen by Newsweek magazine as one of "The 100 Most Respected Japanese" and won many "Designer of the Year" of major awards include from Wallpaper* magazine and ELLE DECOR magazine.
Nendo designs can be found in the Museum of Modern Art in New York, as well as Musee des Arts decoratifs and Centre Pompidou in Paris.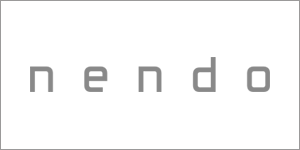 nendo
air lids for Daikin
A kitchenware collection focusing on different lid designs in collaboration with Daikin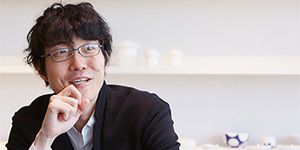 DAIKIN design
Mr. Oki Sato / Chief Designer and Founder of 'nendo' and Mr. Koichirou Seki / Advanced Design Group of 'Daikin' talked about the planned exhibition at Milan Design Week.
Milan Design Week
Recognized for being one of largest and most prestigious design events in the world, Milan Design Week refers to both the Salone del Mobile.Milano, an international furniture fair held every year in April in Milan, and the Fuori Salone, various events held concurrently off-site in Milan in conjunction with the fair.
Milan Design Week is also well-known for brand promotion; showcasing the displays of many companies backed by noted designers and attracting the attention of design industries all over the world.
Media
The exhibition during Milan Design Week attracted the attention of various media around the world.
Samplings of articles are provided here.
Wallpaper* (UK)
Nendo's minimalist homeware hacks connect human and object at Salone del Mobile
dezeen (UK)
Nendo creates kitchenware lids that imitate hand movements
AXIS (JP)
nendoがダイキンの高性能フッ素ゴムを使って作ったキッチンウェアコレクション「air lids」
Minimalissimo (UK)
Air Lids
T magazine (Spain)
Cocinar es un arte para Nendo
大人物
將空氣實體化成瓶蓋,Nendo 廚用器具新作「空氣感」十足
DISCLAIMER

免責事項
This product was developed as an industrial application and was not intended for medical or food-related applications. Furthermore, confirmation of biocompatibility is required for applications in which the product comes into human contact such as wearable items like a watchband made from a fluoroelastomer.