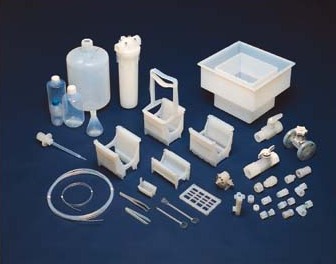 NEOFLON PFA AP-Series has excellent heat resistance, chemical resistance and weatherability. It resembles PTFE but can be melt-molded. The high-purity PFA-SH series has made big achievements in the manufacturing process of semiconductors due to the low elution of fluoride ions and particles.
DAIKIN lines up product items of general grade, high purity grade, and antistatic grade.
- A copolymer of tetrafluoroethylene and perfluoroalkylvinyl ether.
- The strong C-F bond exhibits heat resistance, inertness for almost all chemicals and excellent weatherability.
-Retains mechanical strength at a wide temperature range from-200°C to 260°C.
- It has been used in many semiconductor sites due to its highly purity by stabilizing treatment of end groups.
- It is excellent in electrical insulation and high-frequency characteristics. It effectively works in the field of electronics such as high speed communication cables.
- It has excellent flame retardancy (limiting O2 index 95 vol%, UL94V-0).
- Various melt molding methods are available such as extrusion molding, injection molding, transfer molding, and compression molding.
- Heat resistance
- Chemical resistance, low permeability
- Electrical property (high frequency)
- Optical property
- Nonadherence
- Flame retardant
NEOFLON PFA AP-Serie has excellent heat resistance, chemical resistance and electric properties as well as PTFE. It is designed to be compatible with various melt forming methods.
- Composite injection molded part
- Life science
- Wire and cable
- High-purity tubes and bottles
- Filming
- Sheet for corrosion resistant lining